Creative encounters
Enjoying art in Takarazuka
Osamu Tezuka Manga Museum, Takarazuka Renaissance Hall of Performing Arts,
Vega Hall, Tessai Museum
Enjoying art in Takarazuka
This route takes you to museums in Takarazuka. Each museum has fascinating content representing the unique characteristics of the city. The museums are easy to reach, being within walking distance of train stations. Encounter the culture of Takarazuka and see what this unique city has to offer.

Note: Sections of the route pass through residential areas. Please walk through quietly with consideration for local residents.
Route and time
Osamu Tezuka Manga Museum

Takarazuka Renaissance Hall of Performing Arts

Vega Hall

Tessai Museum
Highlights
Osamu Tezuka Manga Museum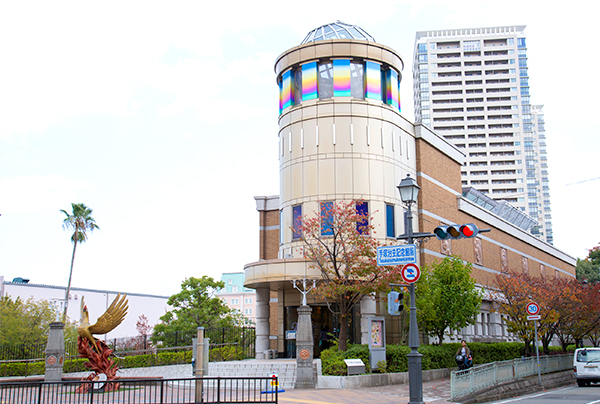 The museum with a glass globe on top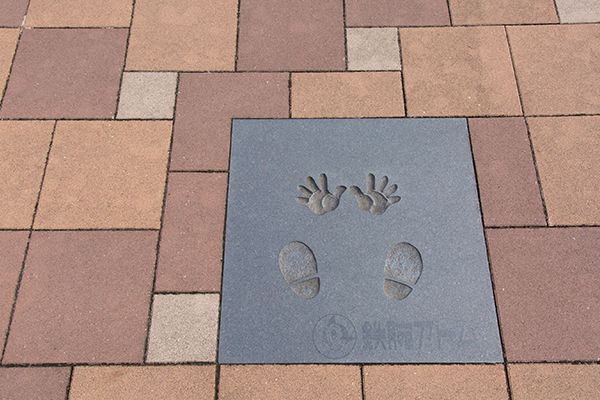 Astro Boy's hand- and footprints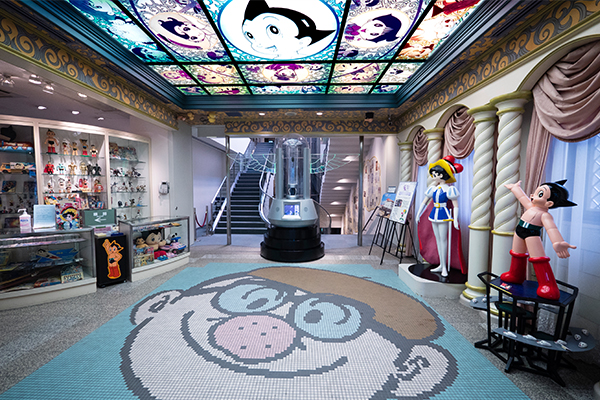 Entrance hall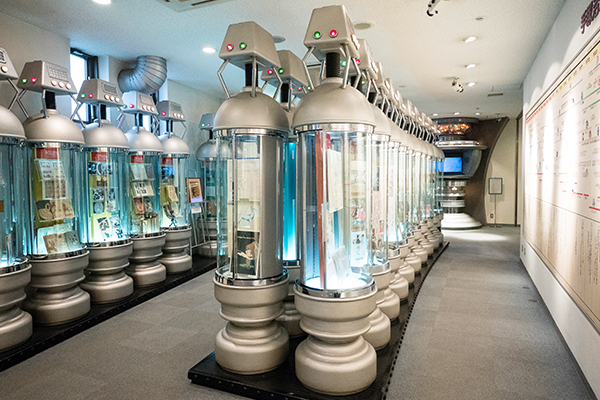 Permanent exhibition area
Takarazuka was where Osamu Tezuka grew up. His deep love of nature and his belief in the preciousness of life are the themes of this museum, which opened in 1994, five years after his death.
The exterior of this museum was designed to resemble an old European castle. The glass globe on top of the roof is a symbolic monument inspired by an essay written by Tezuka entitled Garasu no chikyū wo sukue ("Save our precious Earth").
The museum houses a library where you can find most of Tezuka's manga works, a reproduction of his workroom, an animation workshop where visitors can try creating animations, and more. For those who grew up with Tezuka manga, this museum will take you back to a world of dreams.
Takarazuka Renaissance Hall of Performing Arts (Former Takarazuka Music School)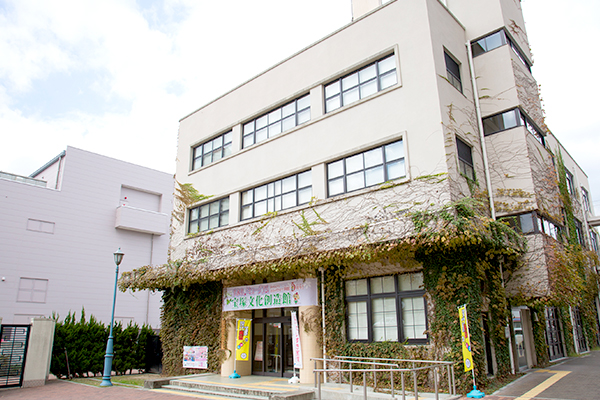 Built in the modernist architectural style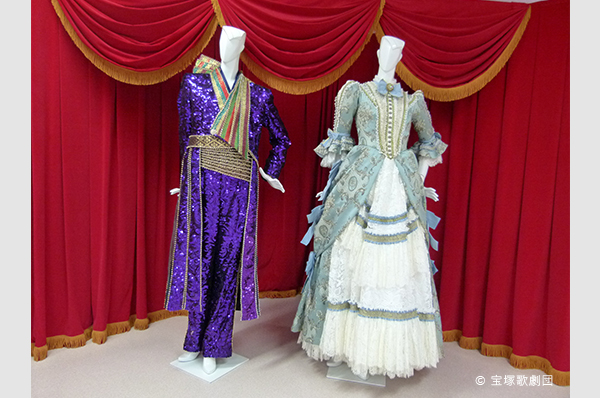 Costumes on display during special exhibitions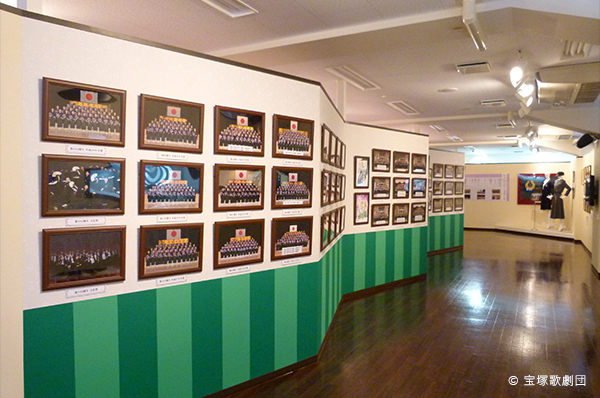 Find your favorite stars among these graduation photos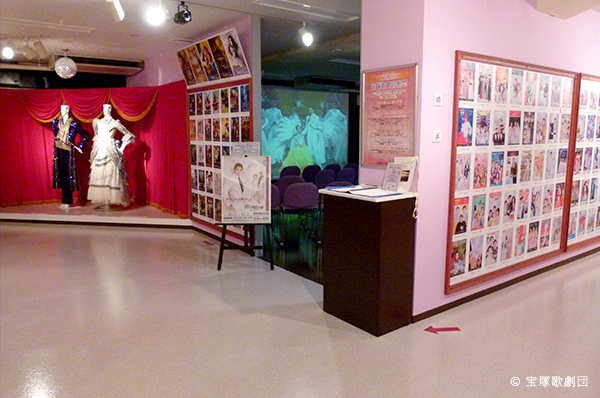 Posters and video room
For 45 years after 1937, excluding the years right before and after World War II, the Takarazuka Bunkasōzōkan (Takarazuka Renaissance Hall of Performing Arts) was the home of the Takarazuka Music School. Today, Takarazuka citizens use it as a venue for performing arts activities.
On the second floor is the Sumire Museum, which is open to the public and which displays items from the Takarazuka Music School. The must-see items here are the graduation photos throughout the years and the 800 Takarazuka Revue posters. You can also see videos of the music school and the Takarazuka Revue.
Vega Hall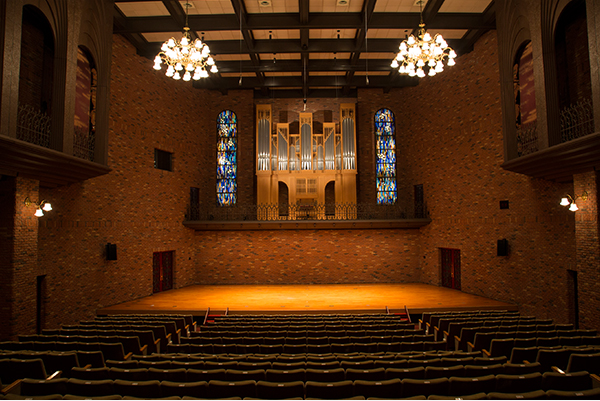 Vega Hall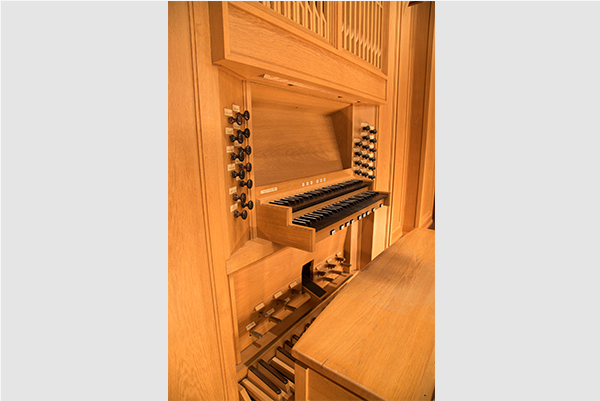 Pipe organ in Vega Hall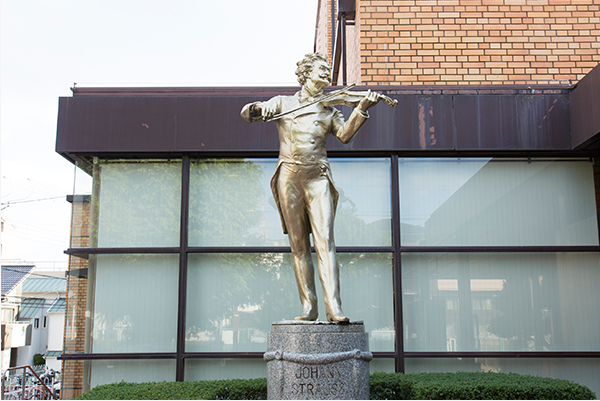 Statue of Johann Strauss II
Vega Hall is a symbol of Takarazuka, a city of music. The hall has a full-sized pipe organ with a total of 1,468 pipes. And among its four concert grand pianos is a Model 290 Imperial, a flagship model from Bösendorfer of Vienna. The statue of Johann Strauss II at the entrance was donated in 2002 by the city of Vienna, a sister city to Takarazuka.
The Takarazuka International Chamber Chorus Contest—one of the world's leading contests of this nature—has been held here since 1984.
Tessai Museum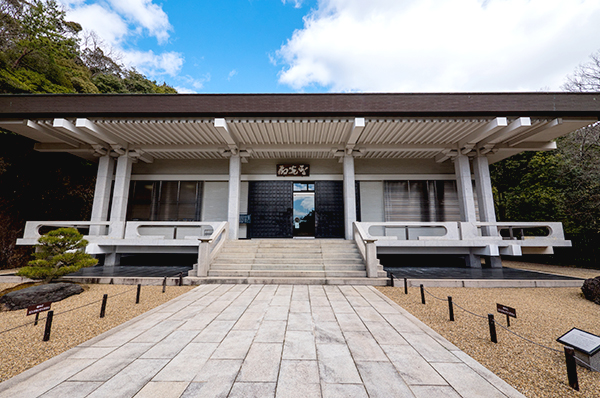 Tessai Museum
This museum is nestled in the furthest reaches of Kiyoshikōjin Seichōji Temple. Living from 1836 to 1924, Tomioka Tessai was a master of bujinga ("literati painting"). His work has been praised around the world for its free-spirited and original expressiveness. Tessai had a close friendship with the late head priest, which led Kiyoshikōjin Seichōji to collect Tessai's work over the years. The museum owns about 2,000 pieces of Tessai's works, including paintings, calligraphy, craftwork, and letters. Special exhibitions are held three times a year. Stop by when you visit Kiyoshikōjin Seichōji.
● Takarazuka Hanano-michi Yumemiru Pass
A special ticket set allows you to enter the Takarazuka Hall of Fame, the Osamu Tezuka Manga Museum, and the Sumire Museum for just 1,000 yen instead of the usual 1,500 yen. You get a separate ticket for each facility, so you can visit each location on different days as long as the tickets remain valid.
• Where to buy: Takarazuka Sorio Hall, Vega Hall, Takarazuka Renaissance Hall of Performing Arts, Takarazuka Washington Hotel, Hotel Wakamizu, Takarazuka Hotel
Note: Not available at the Osamu Tezuka Manga Museum or the Takarazuka Hall of Fame.
• On sale from April 1 to the end of February