Explore on foot
Hiking on a path of prayers
Nakayamadera Temple — Okuno-in — Kiyoshikōjin Seichōji Temple [8.2 km]
Hiking on a path of prayers
Starting from Hankyu Nakayama-kannon Station or JR Nakayamadera Station, this is a fairly easy hiking course that heads toward Hankyu Kiyoshikōjin Station. The route takes in the temples of Nakayamadera—a well-known place to pray for a safe birth—as well as Okuno-in and Kiyoshikōjin Seichōji, which is known for its deity of fire and kitchens.
On the path from Nakayamadera to Okuno-in are stone distance marks placed every 109 meters to guide you. Gently smiling stone Buddhist statues lining the path welcome you on this peaceful trail. In the middle of the trail, you'll find Meoto-iwa Enchi, a spot that gives you an incredible view of Osaka. Descending from Okuno-in to Kiyoshikōjin Seichōji Temple, the route turns into a wide gravel path. Although this trail is not especially challenging—many elderly locals walk it—hiking boots are recommended for handling the gravelly sections. On your way back, stop by the Kiyoshikōjin-sandō shopping street for souvenirs or a meal.

Note: Sections of the route pass through residential areas. Please walk through quietly with consideration for local residents.
Route and time
Hankyu Nakayama-kannon Sta.

Nakayamadera

Kannon-chaya café

Meoto-iwa rocks

Okuno-in

Yasuragi Hiroba

Kiyoshikōjin Seichōji

Hankyu Kiyoshikōjin Sta.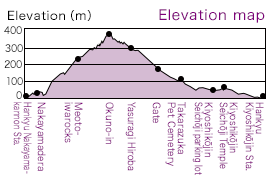 Highlights
Nakayamadera Temple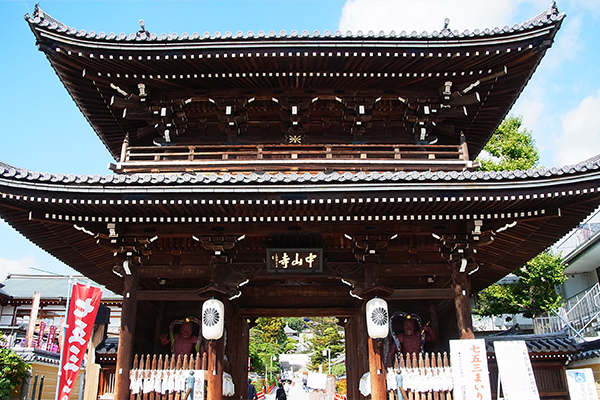 Start from here: the temple's sanmon gate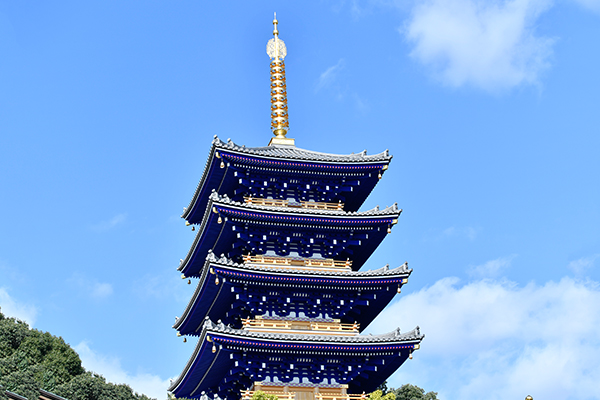 The reconstructed five-story pagoda is painted bright blue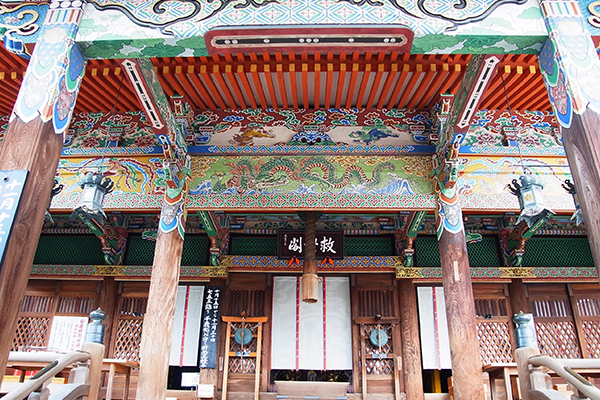 After praying at the main hall, start your hike
Locals gather at Nakayamadera to pray for the safe birth of children. The route starts off by passing through the sanmon gate. After walking up the temple path, you can pray at the hondō (main hall). The five-story pagoda, which was reconstructed for the first time in 400 years, is painted blue—a rare and noteworthy sight. Continue by heading onto the mountain path at the side of Kannon-chaya, which is on the west side of the temple grounds.
Meoto-iwa Enchi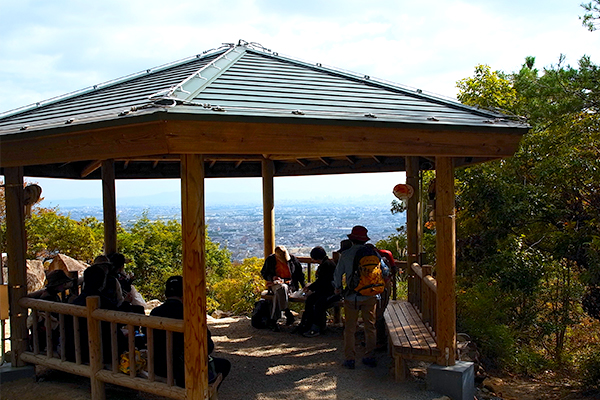 The gazebo at Meoto-iwa Enchi is a nice place to rest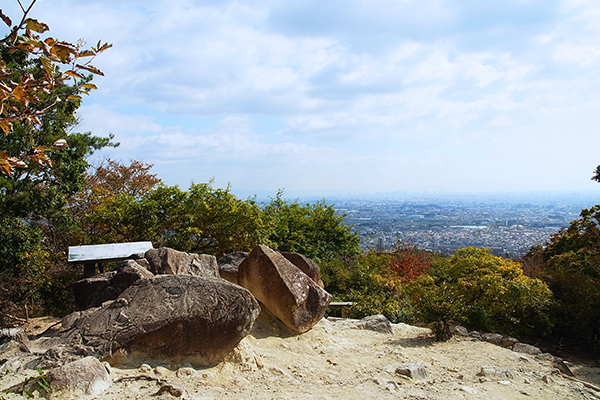 A view of the Osaka Plain spreads out beneath your very eyes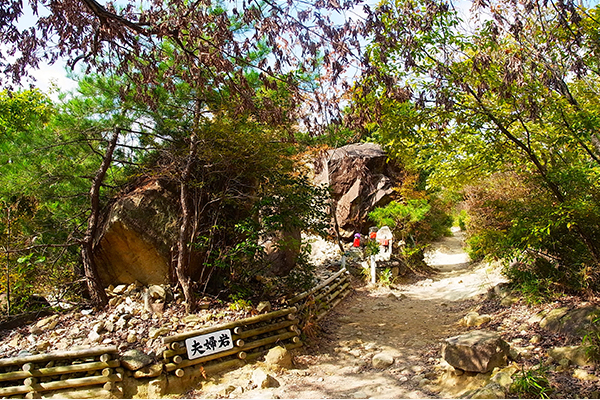 Meoto-iwa (seen from the front)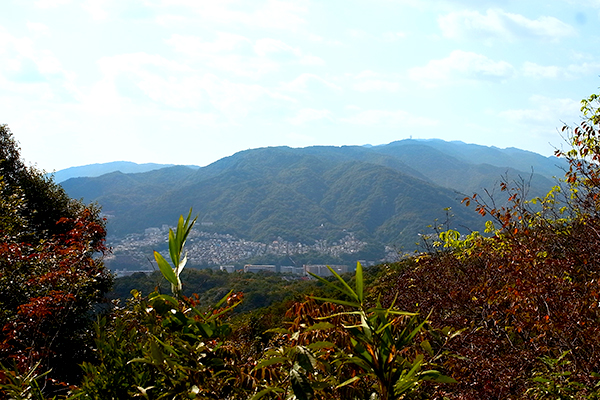 See the Rokkō mountain range beyond the trees
Meoto-iwa Enchi is a remarkable viewpoint that you should stop at during the climb. Gazing south from the gazebo, you enjoy a magnificent outlook. It's a popular spot to take a break or eat lunch. Climbing a little further up, you'll find giant rocks known as Meoto-iwa ("married couple rocks"). From there, you can see the area around Takarazuka Station.
Stone Buddhist statues and historical sites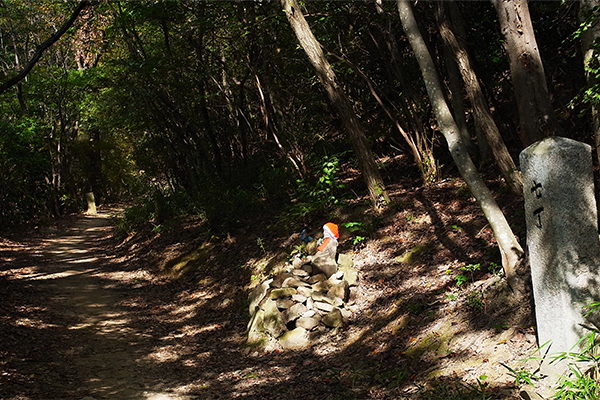 Jizō statues await you at every stone distance mark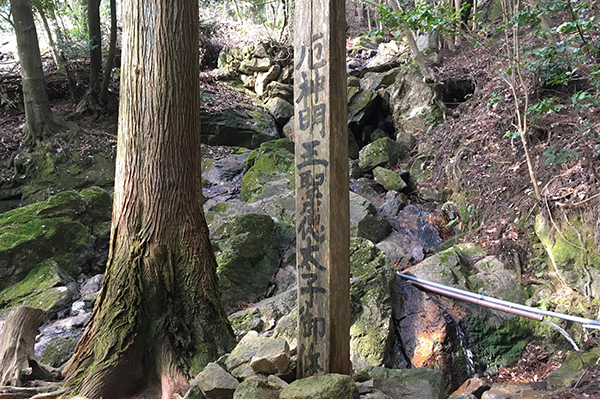 At the 17th stone distance mark is a sign indicating the place where Prince Shōtoku trained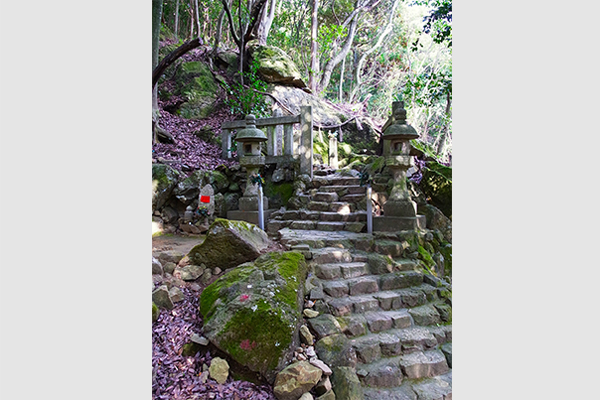 Here Emperor Uda carved a Shintō deity from stone
Gently smiling stone Jizō statues welcome visitors on the 2 km path to Okuno-in. Climb up the path at your own pace and enjoy historical sites related to Prince Shōtoku and Emperor Uda.
Okuno-in of Nakayamadera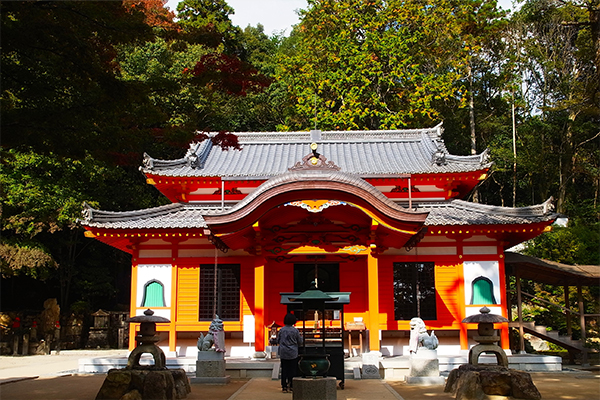 Okuno-in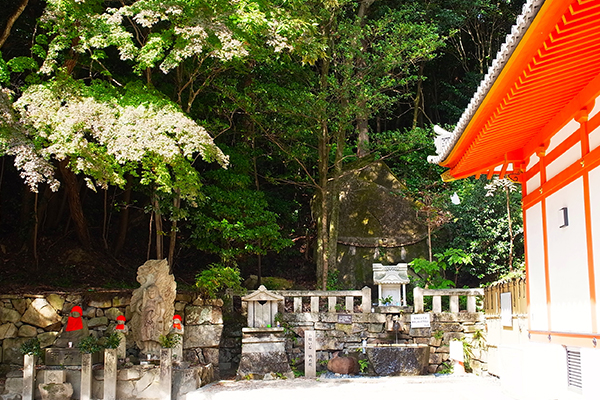 Fresh spring water flows out from beneath the Hakuchōishi stone
Located at the highest point of this route is the Okuno-in inner sanctum, thought to have been founded by Prince Shōtoku 1,400 years ago. The vermillion-colored hondō (main hall) looks stunning, its beauty further enhanced by foliage in autumn. To the left of the main hall is a source of fresh spring water. People travel from afar just to get some of this water. At the temple, you can also obtain your very own stone amulet. After you take a break here, it's time to start heading back down.
Heading down to Kiyoshikōjin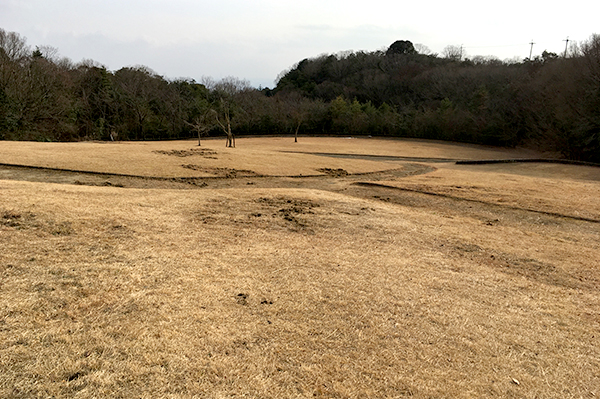 Yasuragi Hiroba is a perfect rest spot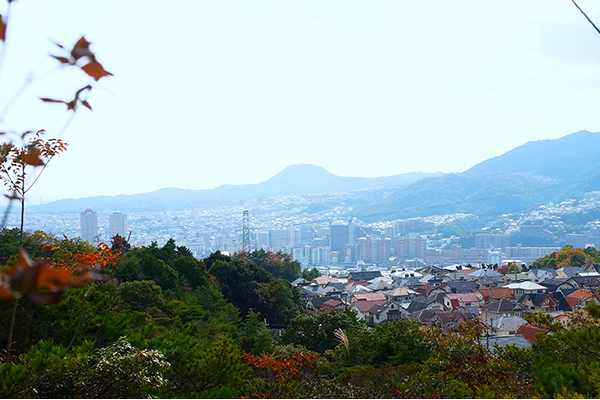 A far-away view of Kabutoyama beyond the city
The main descending route takes you on a wide gravel path. It's easy on the feet and there's a place where you can get a nice view of Mt. Kabutoyama and Takarazuka city beyond the hillside Gotenyama suburb. Take a lunch break on Yasuragi Hiroba, a grassy wide-open area.
Sub-route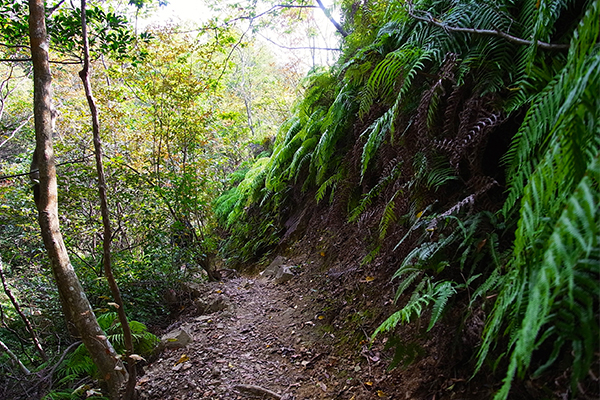 Path covered in ferns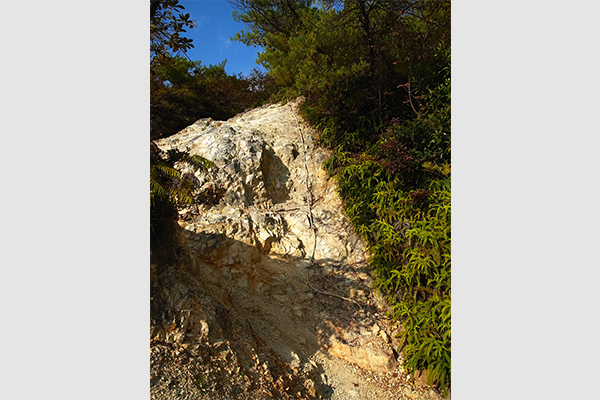 Rough areas that require climbing down by rope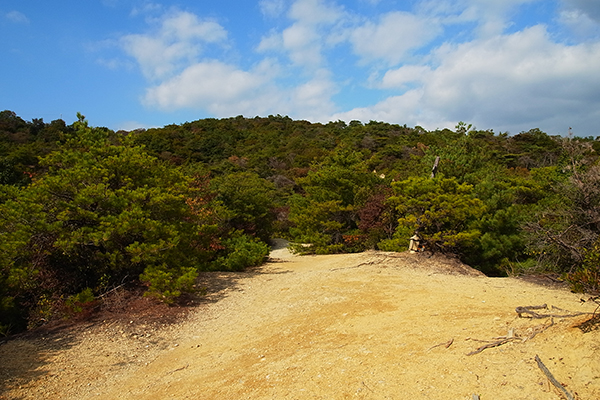 Wide-open space
There's another more advanced hiking trail that goes down through the mountains and across the Dairinji Temple grounds. Although you won't get lost on this well-trodden path, there are areas where you'll have to descend using the ropes attached to the rocks.
Kiyoshikōjin Seichōji Temple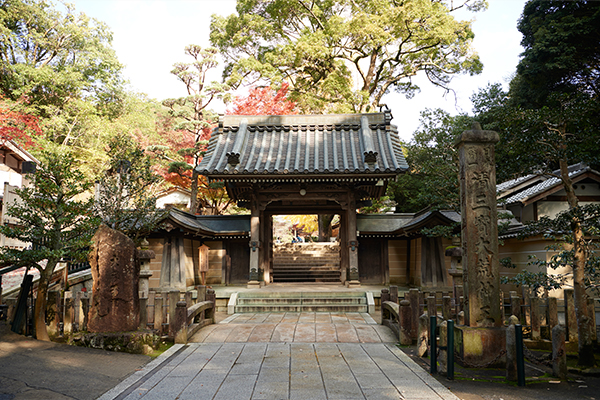 Sanmon gate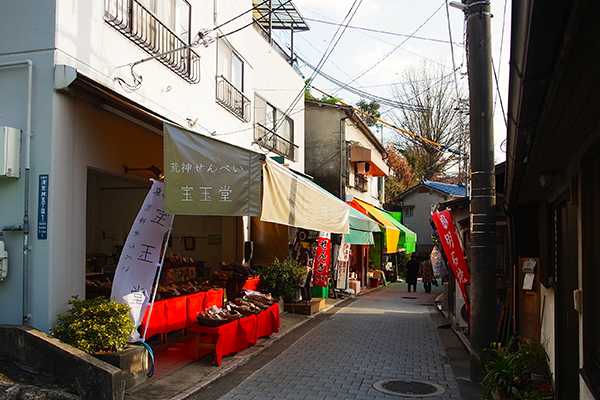 Shopping street on the path to the temple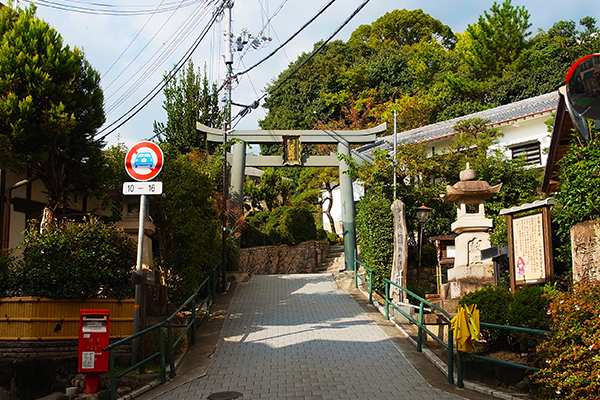 You've reached the goal at this big torii gate
There are many things worth seeing here: the hondō (main hall) in front of you as you pass through the sanmon gate; the haiden (worship hall) to your left; and the Tessai Museum further past the hondō. The grounds are complete with washrooms and places to rest. The temple is popular among locals for its resident deity of fire and kitchens. How about getting an ofuda (talisman) here for good luck? And enjoy shopping and eating on the Kiyoshikōjin-sandō shopping street on your way back.