Explore on foot
Kitanakayama – Saimyōjidaki Waterfall
A tranquil hiking trail
Nose Hirano Station — Tadajinja Shrine — Manganji Temple
— Saimyōjidaki Waterfall — Aiai Park — Hankyu Yamamoto Station [12.2 km]
Kitanakayama – Saimyōjidaki Waterfall: A tranquil hiking trail
Starting from Hirano Station on the Nose Electric Railway line, you can walk to several historical temples and shrines. Along this serene hiking course you'll encounter Manganji Temple as well as two different shrines named Tadajinja (one is written "多太" in kanji, the other "多田"). The hike towards Hankyu Yamamoto Station gives you the chance to fully embrace nature. The highlight of this route is Saimyōjidaki Waterfall, where Hōjō Tokiyori (a 13th century Kamakura Shogunate regent) trained in the Buddhist discipline. Despite the waterfall's proximity to the city, its solemn mountain atmosphere soothes the soul. The scenery on this hike changes as you make your way along town streets and mountain trails, alongside a golf course, and near temples and shrines. Stretch a little further to Aiai Park, a theme park modeled after an English town, where you can enjoy flowers and greenery.
Note: This route passes through Kawanishi city.

Note: Sections of the route pass through residential areas. Please walk through quietly with consideration for local residents.
Route and time
Nose Hirano Sta.

Tadajinja

Tadajinja

Manganji

Saimyōjidaki

Aiai Park

Hankyu Yamamoto Sta.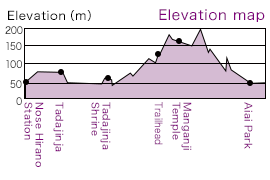 Highlights
Tadajinja (多太) Shrine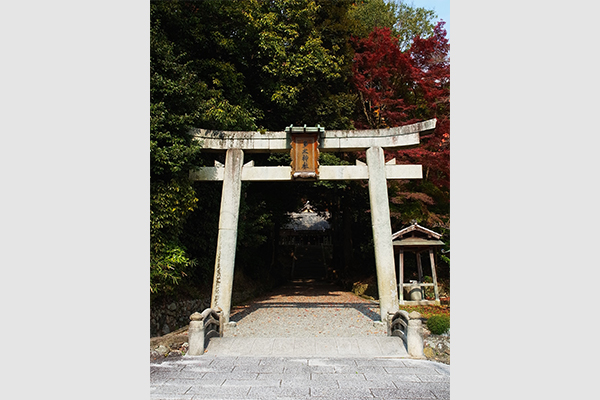 Torii gate of Tadajinja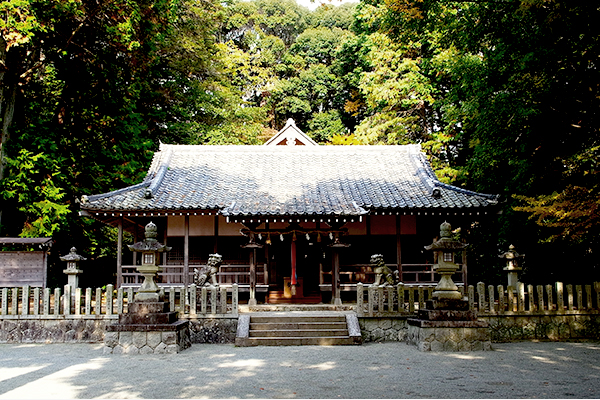 Worship hall of Tadajinja
The first highlight of this route is Tadajinja, which is nestled in an area located five minutes away from Nose Hirano Station. It's an old shrine founded in 1693. It features a small haiden (worship hall) surrounded by a quiet and peaceful forest.
Tadajinja (多田) Shrine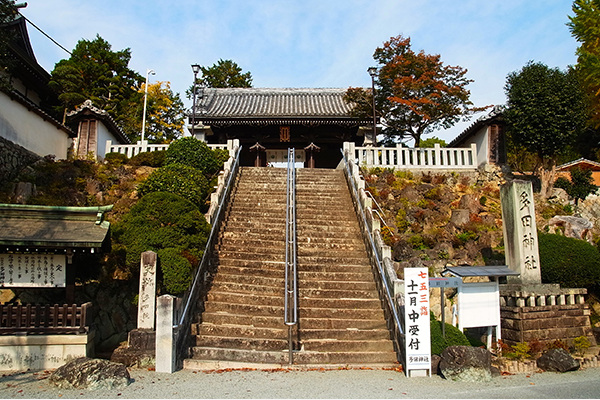 Walk up the stairs to Tadajinja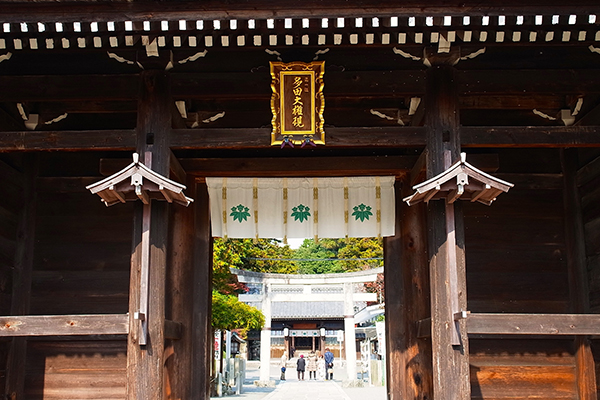 The nandaimon, torii, and zuijinmon gates follow one after another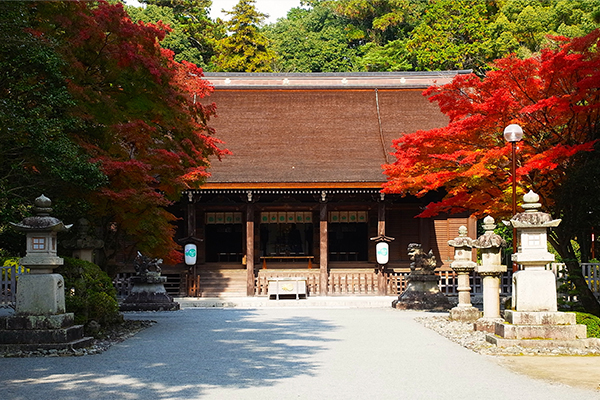 The worship hall is a nationally designated important cultural property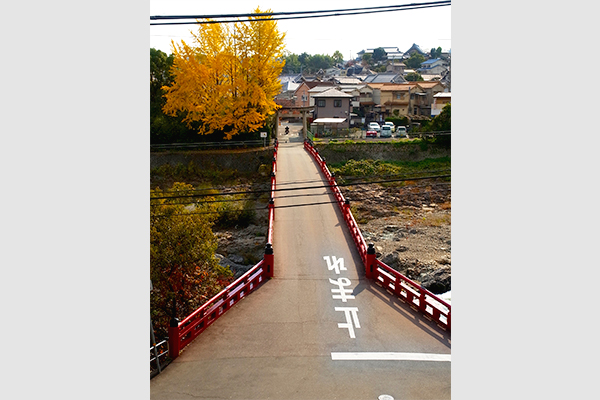 The sacred red bridge over Inagawa River
Tadajinja, also called "Kansai Nikko," was founded in 970 and is known as the birthplace of the Seiwa Genji clan. Take the stairs to the nandaimon gate, enter the torii gate, and finally go through the zuijinmon gate to find the haiden (worship hall). Well worth seeing on the neatly swept shrine grounds are several fascinating structures designated as important cultural properties. The hilltop location affords a wonderful view—looking down through the nandaimon gate—of the sacred red bridge.
Manganji Temple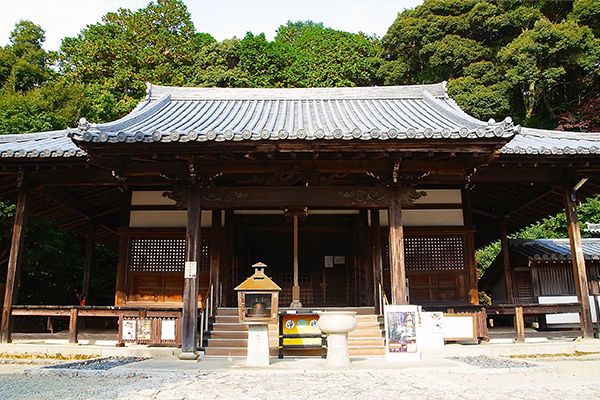 Manganji kondō (main hall)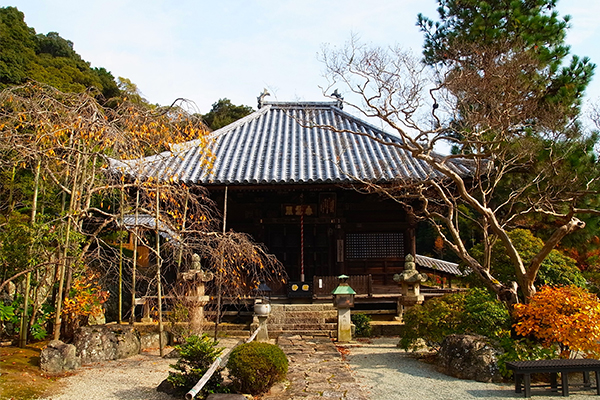 Manganji kannondō (Kannon hall)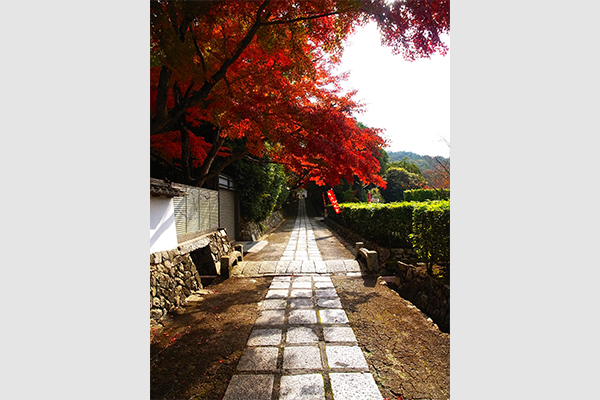 The long stone-paved approach to the temple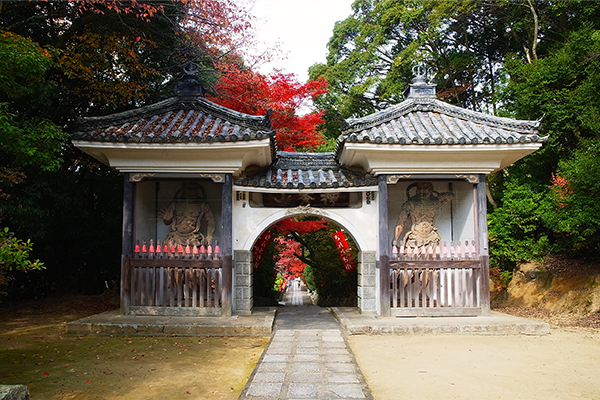 The niōmon gate incorporates a Western design adapted during the early Meiji period (late 19th century)
It is said that Minamoto no Mitsunaka, a 10th century samurai, was deeply devoted to Manganji, a temple where all your prayers are said to come true. Enter the kitamon gate, go to the kondō and kannondō halls, and onto a path that leads to a unique Western-style niōmon gate. The main object of prayer here is the Senju Kannon, which is usually concealed from public view. If you're interested in Buddhist statues, how about visiting during higan (equinox), when the doors open to the public?
Saimyōjidaki Waterfall and Fudō-myōō Path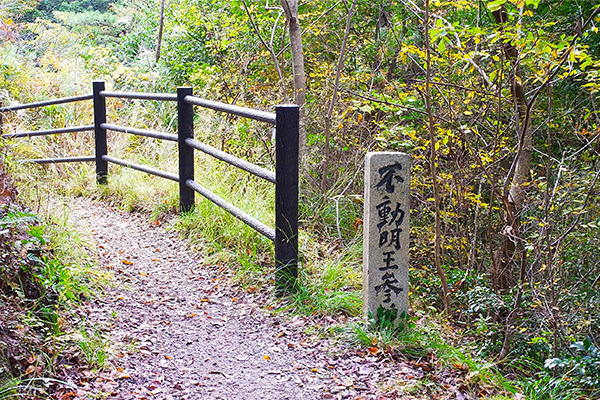 To go to Saimyōjidaki, look for the stone monument on the Fudō-myōō Path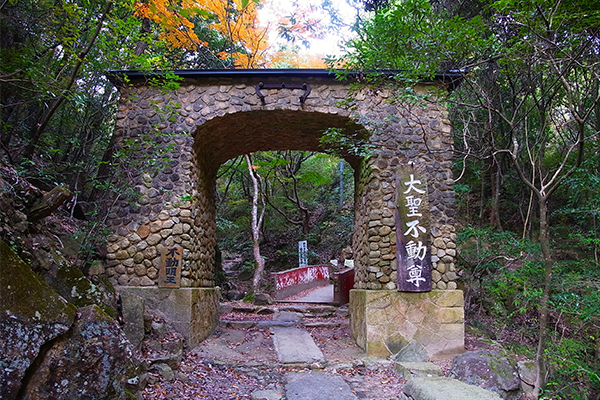 If hiking from Yamamoto Station, go through this gate and turn right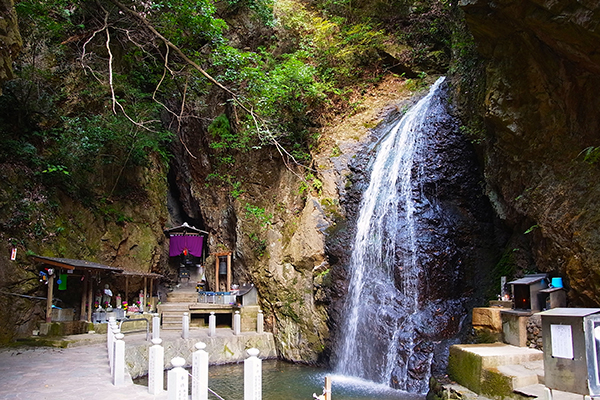 Saimyōjidaki was once a training location for those following the Buddhism discipline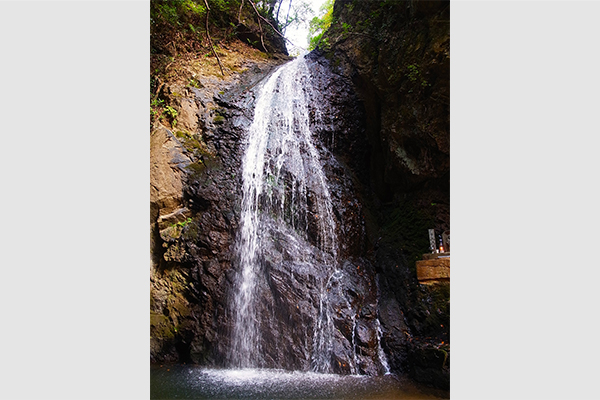 Magnificent 10-meter fall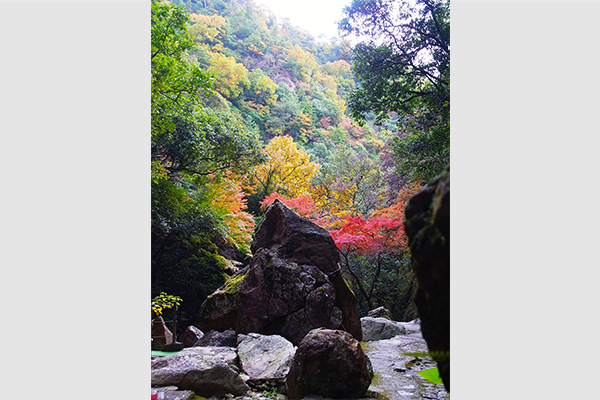 Beautiful contrast between giant rocks and autumn foliage
During the Kamakura period (1185–1333), Hōjō Tokiyori entered the priesthood and used the name Saimyōji Nyūdō. Because he trained at this waterfall, it was named after him. Identify the stone monument on the mountainous Fudō-myōō Path as a guidepost. Passing the Tatsumibashi Bridge and walking further on the path, you'll find a gushing 10-meter-high waterfall. The area is filled with a mystical aura and a special healing energy.
Aiai Park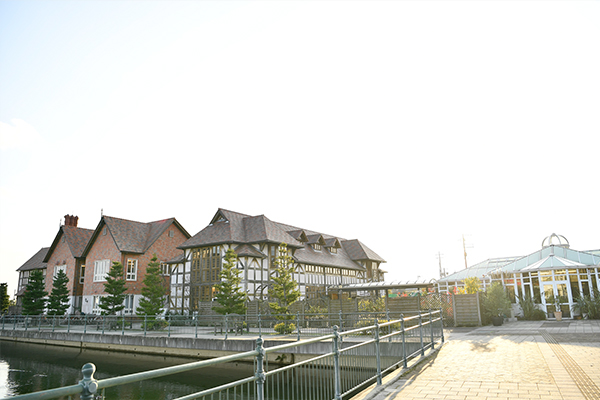 A theme park of flowers and greenery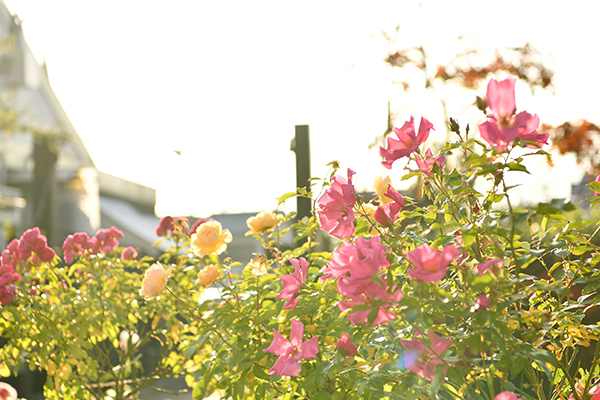 A wide variety of flowers welcome you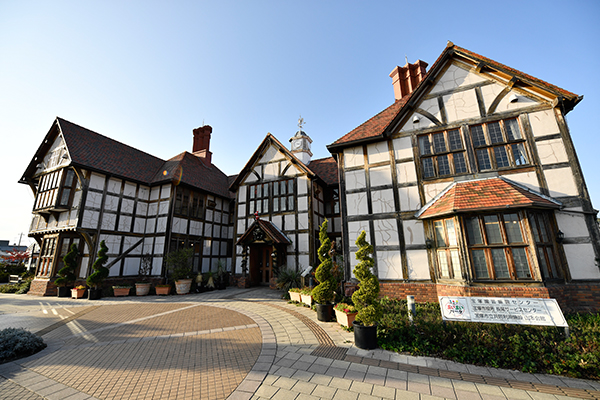 The main building was built with design and materials from the UK
In Yamamoto, one of the three largest garden-tree-producing regions in Japan, you'll find a gardening theme park called Aiai Park, which was modeled after 17th century Surrey (England). Aiai Park sells flowers, plants, trees, and gardening goods while providing information about plants and gardening. On the second floor of the main building, there's a café with British-style items on the menu. Also, across from the building are English gardens as well as Japanese gardens that you can stroll about in. You can spend a whole day here relaxing and having fun.